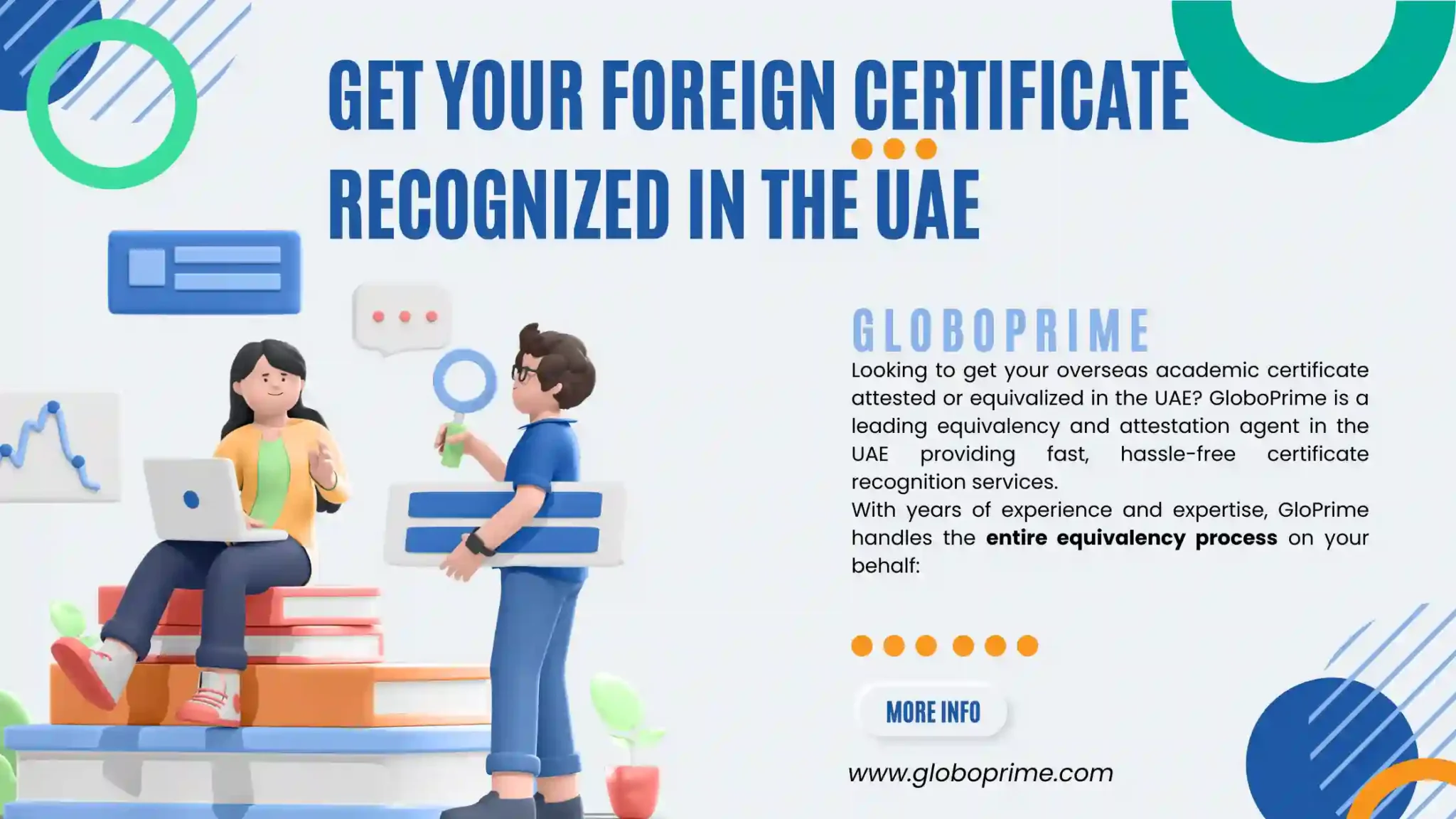 Obtaining recognition for your foreign academic certificate can be a challenging process. QuadraBay aims to simplify and streamline recognition with our dedicated equivalence verification service.
Follow these steps to get your certificate recognized:
Determine if your certificate can be recognized
Not all foreign certificates are eligible for recognition in the UAE. Certificates from certain countries or in certain fields may not qualify. Refer to the list of excluded certificates below to see if your certificate can be evaluated.
Prepare your documents
You will need to provide copies of your certificate, transcripts, passport, and any other supporting documents. Ensure copies are clear and certified if required. Use the document checklist tool on the QuadraBay website to see exactly what you need.
Start your application
Go to the QuadraBay / GloboPrime and begin the application process. You will need to create an account, provide your personal details, education history, and upload your documents.
Get your certificate verified
QuadraBay will verify your certificate directly with your institution. This may take some time – verification can take up to 30 days. You may be asked for additional documents during the process.
Obtain your Certificate of Recognition
Once your degree is verified, you can apply for your final Certificate of Recognition from the UAE Ministry of Education. QuadraBay will provide instructions and the reference number you need to complete the process.
Use your recognized certificate
Your recognized certificate can now be used for employment, immigration, and further education purposes in the UAE.
Certificates That Cannot Be Recognized
The following certificates cannot be recognized in the UAE:
Certificates issued by institutions not recognized or accredited in their own country
Certificates in fields not taught at UAE institutions (e.g. astrology, wizardry)
Certificates with major differences in program duration or content
Honorary degrees with no study or exams completed
Certificates obtained solely through distance learning or online
Certificates from countries with no diplomatic ties with UAE
The Evolution of Terminology: From Equivalency to Recognition
The equivalency process was used to evaluate foreign certificates and determine their equivalence to UAE certificates. It aimed to confirm that the foreign certificate met the required standard and criteria to be considered equivalent or equal to a UAE degree.
The process is now more commonly referred to as recognition or attestation. However, the overall purpose remains the same – to allow foreign degree holders to have their credentials recognized and accepted for employment, immigration, and further education within the UAE.
Some key points about foreign certificate recognition in the UAE:
The official name is now "Recognition of Foreign Certificates" or "Certificate Attestation".
It is carried out by the UAE Ministry of Education along with authorized service providers like QuadraBay.
The aim is to verify certificates and recognize their legitimacy for use in the UAE.
Recognition involves a detailed evaluation and verification of the certificate, institution, program curriculum, etc.
The recognized certificate can be used for visa processing, employment, admissions, and other purposes requiring credential evaluation.
The process used to be called equivalency, but this term is being phased out in favor of recognition or attestation. However, the overall purpose and process remains largely the same.
So in summary, foreign certificate recognition in the UAE was previously known as equivalency but now goes by recognition or attestation.
What is QuadraBay Verification ?
QuadraBay is a leading UAE-based provider of credential verification, background screening and data services across the Middle East region and globally. They offer specialized services for individuals and organizations related to credentials, qualifications, compliance and data analytics.
QuadraBay is a leading credential verification and background screening service provider based in the UAE.
They offer services related to background checks, qualification verifications, data analysis, and consulting to government entities, private companies and individuals in the Middle East.
QuadraBay has over 45 years of industry experience in verification services.
They have a global presence covering over 240 countries and territories with offices in 11 countries.
Their services include background screening, professional credential verification, qualification equivalency attestation, data analysis, and specialized consulting.
For individuals, they provide services like credential verification, qualification attestation, and background checks needed for employment, immigration or education purposes.
For organizations, they offer background screening, credential verification, compliance services, data analysis and other solutions tailored to business needs.
QuadraBay aims to bring credibility, compliance and confidence to hiring, immigration and educational processes through their verification services.
They partner with government authorities like health regulators, education ministries and law enforcement agencies to provide efficient and reliable verification solutions.
Attestation is an important part of the foreign certificate recognition process in the UAE.
Here are some key points about attestation:
Attestation refers to the act of certifying the authenticity and legitimacy of a document like a degree, diploma, or certificate.
Typically, the issuing authority or pertinent governmental organizations in the document's country of origin carry out this task.
For instance, in that nation, the Ministry of Foreign Affairs would vouch for a university degree before the university and the Ministry of Education.
Attestation verifies that the document is genuine, was issued by a recognized institution, and was rightfully awarded to the holder.
In the UAE, foreign documents require attestation from the UAE Ministry of Foreign Affairs and the Ministry of Education.
Attestation by the UAE authorities confirms the document can be used officially for employment, immigration, or education purposes in the country.
Without proper attestation by the relevant bodies, a foreign certificate cannot be formally recognized or equivalized in the UAE.
Attestation prevents fraudulent qualifications from being used and ensures only legitimate documents get recognized.
Service providers like QuadraBay assist in the attestation process on behalf of the applicants.
In summary, attestation is a crucial step that verifies the authenticity of foreign certificates and makes them eligible for official use in the UAE. Proper attestation by the issuing and UAE authorities allows the document to be fully recognized and accepted in the country.